STAR SAILBOAT OPEN HOUSE TOMORROW!
OLYMPIC STAR OPEN HOUSE


Thanks to all those who have shown an interest in bringing the STARS to Utah. We are all looking forward to checking out the new (to us) Star that Dewitt will be bringing to the lake tomorrow.
Join us tomorrow (Saturday, October 20th) from noon to 3 pm and check out these legendary boats. The Star has been sailing competitively in the Olympics since 1932.
Enter to win a spot for a two-hour sail in one of our Stars next spring.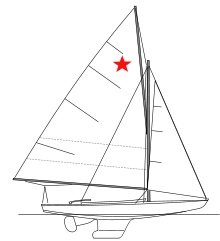 These will be the first Stars in Utah . . . the nearest fleet is on Lake Dillon, near Breckenridge Colorado. Our plan calls for bringing in older, wooden Stars and completely restoring them as part of our fall-winter-spring classes in wooden boat restoration and care.
Once ready, we'll launch them for use in our sailing classes, racing clinics and even the Utah Summer Games Keelboat series competition.
We are also putting together a membership plan that will allow members weekly access to these boats.
Hope to see you tomorrow!


Bonneville School of Sailing
www.bonnevillesailing.com
801.636.5204