Regatta Photos, Summer Sailstice, Man Overboard
UTAH LAKE FESTIVAL
There was a record turnout for the 2012 Utah Lake Festival, held June 2, at Utah Lake State Park. It was nice to visit with all the people who were unaware of the great sailing we have here on Utah Lake. At our booth for the festival, we had a sign-up for a free Sunset Sail, and the winner is: Tanner Christensen.

The crowds kept Bonneville's Boat Building instructor Dewitt Smith on his feet and answering questions all through the day. We will be putting together a Family Boat Building course in the near future with DeWitt showing us how it's done. If you are interested in building a boat as an individual, family or scout group send us an email.


USA SUMMER GAMES KEELBOAT REGATTA
In conjunction with the festival, the fourth annual keel boat regatta, sponsored by Utah Sailing Association (USA), was held out on the lake with plenty of excitement as micro-burst winds heeled the boats over for some fantastic sailing.


Bonneville's Olson 30 on the race course. (photos by Joe Richey)
We'd like to thank Joe Richey who did a great job of documenting the race. Check out his photos
here
.

Brett Bingham was instrumental in bringing this event together as a
Utah Sailing Association
sponsored event, with lots of help from Beverly Reidel and Terry Judd, who also helped on the committee boat. Good on ya!
Thanks also to Roger Bliss for use of the race marks and to all the salty dawgs who joined in this challenging race.
If you didn't participate this year, please consider joining us next year. You won't be disappointed.
We have a lot more photos of all the boats on our Facebook page.


Race Results
Speed Boat class PHRF under 90

Gold
Steve Monson
John Monson
Jaymes Monson
Tyler Monson
Cole Monson
Warren Moon
Silver
Todd Frye
Dale Browne
Martin Frey
Angie & Mike Dennison
Bronze
Jared James
Steve James
Brandon Finch

Cruiser class PHRF 90-100
Gold
Kevin MacCabe
Cort MacCabe
Sloane MacCabe
John MacCabe
Chase Crane
Silver
Joe Ritchey
Bronze
Grant & Carolyn Webber
Sierra Webber
Ciara Carlisle
Mariah Webber
Rachel Webber
Steven Carlisle
Elisa Carlisle

Tug Boat class PHRF over 100
Gold
Pat Sullivan
Dave Pendell


Short You Tube video of the Regatta & Awards Ceremony
by Terry Judd of "Get Wet Sailing
"
SUMMER SAILSTICE
This worldwide celebration of sailing is held each year on the weekend closest to the longest day of the year. Come sail away with everyone for this Utah Lake "social sail" on June 22 and 23, to Pelican Bay on the west side of the lake. Mike Harmer has organized this event for our Utah Lake sailors. For more information on times and where to sign up go to Mike's blog at
http://blog.unsinkable2.com/p/utah-lake-summer-sailstice-2012.html
.

Check out these America's Cup thrills and spills featured on Terry Judd's site
"Get Wet Sailing"
.

FATHER'S DAY
Our sailing Gift Certificates make a fun Father's Day gift.
Call 801.636.5204


This is something that no one wants to hear but if you do you had better be prepared. The following is an article from SAIL Magazine (March 2006). When teaching MOB drills on Utah Lake I feel a little guilty when I encourage students to rethink the old traditional Figure 8 method. Now I don't feel so guilty.

GET OUT THE STOPWATCH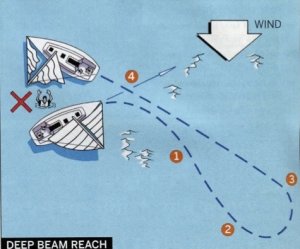 "I'm an ASA Sailing Instructor (ACCI), and two parts of "Overboard and Back" (December) really got my attention: First, learning that a stern swim-platform and/or swim-ladder recovery in rough water proved more dangerous than I realized: second, the development of the Deep Beam Reach recovery maneuver to replace the classic Figure 8. In personal tests on a 42-foot Catalina sloop, it took 2.5 minutes to return to the MOB using the Quick Stop and 8 minutes using the classic Figure 8. A leeward pickup of the MOB seemed to work best; on a windward pickup, we were blown away from the MOB most of the time. In my next offshore class, I look forward to experimenting with the Deep Beam Reach maneuver." Captain Tony Igar


Bonneville School of Sailin
g
www.bonnevillesailing.com
info@bonnevillesailing.com
801.636.5204