Two month sail around Vancouver Island. A three part You Tube sailing adventure.
Enjoy in Full Screen mode.
R2AK Color Commentary


Why R2AK


Your sponsorship would be greatly appreciated.
Your name - Your Company/corporations name - on Wyewacket's sails.
Get involved with Bonneville's R2AK run for Ketchikan.
It takes a village
Sea Beans
Can be found along the west side of Vancouver Island.

Preparing Cod aboard ship.

Ketchikan


Bonneville's #2 Cottage Meeting is coming up
Wednesday evening, 7-8 PM, February 3, 2021.
Join us for a ZOOM virtual sailing adventure.


If you're interested, email us and we'll send you the link.


(info@bonnevillesailing.com)
Our approach to Cottage Meetings is to provide some motivation and direction to sailors who may have questions or concerns about living some of their sailing dreams.
We don't have all the answers, but maybe we can help you with yours.
We thought we would go back to the beginning...where "blue water sailing" really got into our blood.


Where "Blue Water Cruising" started for us.




2007




Sailing a 40' Bavaria in Croatia.


An eight day odyssey sailing the beautiful southern Adriatic, off the Dalmatian Coast of Croatia.



We have been taking reservations for sailing lessons already.
You may want to secure those time slots you have been thinking about, before the April 1 rush.
Right now, Utah Lake water level is at -2.50' (74% full).
Not too bad for Utah Lake, in January
Who knows what kind of water we'll have around October 31.


What do you think the correct answers are
for the following OUPV Captain's License, six-pack exam:
Under the IALA-B Buoyage System,
when entering from seaward,
a buoy that should be left to port will be ____________
A. Black
B. Red
C. Green
D. Yellow
To find the specific phase characteristic of a lighthouse
on a sound of the United States you would use the __________
A. American Practical Navigator
B. Light List
C. Nautical Chart Catalog
D. U.S. Coast Pilot
You determine your vessel's position by taking
a range and bearing to a buoy.
Your position will be plotted as a(an)___________
A. Running fix
B. Fix
C. Dead-reckoning position
D. Estimated position

Information about currents on the Pacific Coast of the U.S. are found in the__________
A. Tidal Current Tables
B. Nautical Almanac
C. Tide Tables
D. Ocean Current Tables

Purchasing new sails
Vendee Globe sailors closing on finish line.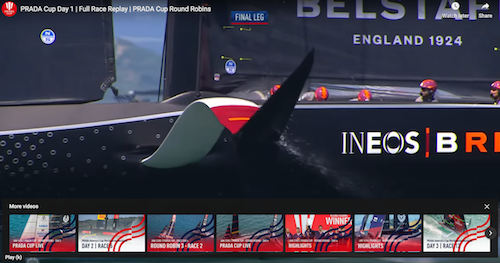 British getting the job done / America's Cup preliminaries

Bonneville School of Sailing
www.bonnevillesailing.com
801.636.5204