Celestial Navigation starts this Friday

It's not too late to join our class.
Our instructor, Doug Hendricks, is a USCG-licensed 100 ton-Master with more than 35 years of sailing experience. He has sailed across the Atlantic, the Pacific, and the Indian oceans.
He has sailed in the Mediterranean, the Caribbean, Tahiti, Indonesia, Thailand, Hawaii, Africa and the Bahamas in addition to many years of sailing along both the east and west coasts of the U.S. He has taught both Offshore Passage Making and Celestial Navigation for Bonneville School of Sailing since 2008.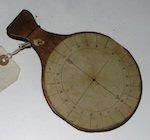 Who knew?
Looks like lots of people are buying sextants.
You say tomato...I say tomato.
You say longitude...I say longitude.
John Harrison's H1 Chronometer.
Today's quartz crystal watches as accurate as H1.
The clock that changed the world
Bonneville
School of Sailing
www.bonnevillesailing.com
801.636.5204