The bad news is...

Melanoma is on the rise.
The other bad news is Utah has the highest reported rate of Melanoma increase.
Now for the good news...

Don't go sailing without the very best Melanoma protection ...



under the sun.
Bonneville is a proud distributor for Harken Derm skin care products.


00
African American sailors
a definite minority in U.S. sailing


Who Knew?



Most of us will never make it to Tahiti.
So this seminar may have to fill that gap...
or maybe it will be the nudge to make us get up and go.



Winter Sailing Seminars Hosted by Lindon Marina


Every Thursday, 7 - 8:30 PM
Seminar Dates

February 20, Chartering in Tahiti, Mike Harmer.


February 27,

How to Purchase Your First Boat,

Melani Evans.


March 5, Chartering in the Canadian Gulf Islands, Todd Frye.





Speaking of sailing Tahiti...



It all starts here, just off Point Fermin.



and ends 3,570 miles later right here, in Papeete, Tahiti.


Great article on "Sailing Etiquette"
(Sail Magazine, January 2020)
It is

cliché

d to say so, but it really is true: the best crew leave a boat better than they found it. This may not be possible on a short race or day sail, but if you're spending days on an OPD (Other People's Boat), look for extracurricular jobs you can do that will improve the boat's condition. Whip the ends of lines that are fraying; clean up and organize some neglected locker or cupboard; wipe up behind the stove. Any action you take demonstrating that you care about the boat is sure to be noticed and will earn you major brownie points. And when cleaning the galley - or yourself for that matter - it is best to use fresh water sparingly, even if the boat has a water maker. Likewise, even if the boat has a generator, be sure to to conserve electrical power whenever possible. Do not leave lights on or taps running. Any alert skipper will notice and appreciate your careful use of resources.


We are now setting up our spring classes!


If you would like to reserve your spot,
call Louise 801-636-5204
Bonneville's Learn to Sail, Intermediate and Advance Certification
U.S. Sailing Basic Keelboat Certification
International Sailing License and Credentials Certification
Learn the systems of a big cat, before you go to the Caribbean.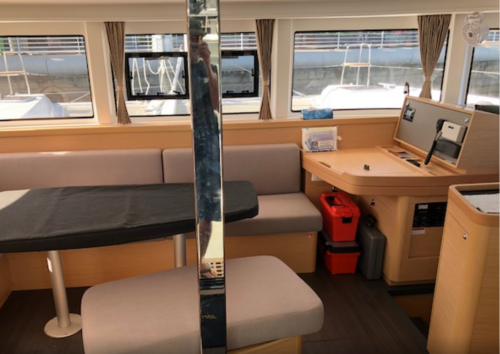 Plenty of room in this big cat.
Join us as we sail to Santa Catalina,
and see just how roomy a big catamaran can be.
March 24 - 26, 2020
Deadline for reservations is

February 24, 2020



Practice your knots before the sailing season gets here.
Maybe even consider adding one more knot to your repertoire.
May I suggest the stopper knot.




Ice is melting in Provo Marina.


February 17, 2020


Folks have been sailing out of Lindon Marina since mid-January, 2020.



ICE OFF!
as of 7:50 AM,

February 18, 2020.


This used to be the start of our sailing season.
The State Parks have mandated April 1, as the date we can put in.
That's 43 days away!
Seems so odd.

Spring is now 30 days away.

Cold Water Boot Camp.
Current Conditions (water temp) for Utah Lake
Is your boat prepared for possible hypothermic situations?
PFD's
Polypropylene blankets
Spare clothing
Drying towels
Cell phone for medical assistance
VHF radio (Let's all monitor Chanel 16 when out sailing)
Boat hook
Throwing line
Life Ring or other throwable PFD, Type IV
Working galley stove to heat food/drinks


Anybody thinking about taking home some bling from the
2020 Crosland Cup,

24 Hour Endurance Race

?
Summer Solstice (June 20, 2020) will give you maximum daylight hours.


Currant Champions:




Roger Crosland & Mitch Mahana (Team)




Chad Chorniak (Solo)




Female Team (??): Your name



Bonneville School of Sailing
www.bonnevillesailing.com
801.636.5204