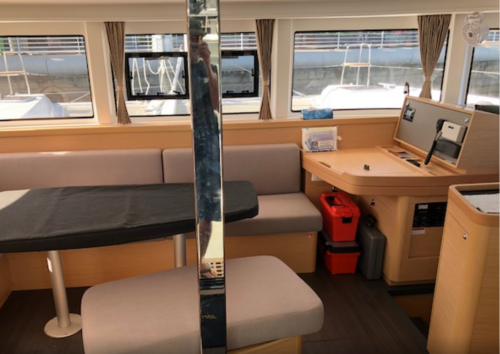 Plenty of room in this big cat.
Join us as we sail to Santa Catalina,
and see just how roomy a big catamaran can be.
March 24 - 26, 2020

We are now setting up our spring classes!


If you would like to reserve your spot,
call Louise 801-636-5204
Bonneville's Learn to Sail, Intermediate and Advance Certification
U.S. Sailing Basic Keelboat Certification
International Sailing License and Credentials Certification
You might be surprised at how many days until spring.
TLC Boat for Sale.
The price is right,
but do you really want to buy an out of production boat
that no longer makes replacement parts.
Not a problem!
Just get yourself one of these.



A comprehensive boat safety seminar opportunity on February 15, held at the Lindon Marina.
Consider signing up, and attending.



If you are interested in an exciting, in-depth boating safety course, check out the in classroom (seminar) version of our popular online boating course. This beginner boating class will give you the knowledge needed to obtain a boat license or safety certification in many states. Many boat insurance companies will offer discounts on boating insurance to boaters who successfully complete About Boating Safely.


Contact Chad Chorniak for details. 801-427-6815






Sea Scouts




Sea Scouting is a co-ed program, open to young men and women ages 14-21. Currently there is but one Ship in Utah County—Ship 1000, SSS Neptune—chartered by the New Horizon's Maritime Center, and we want to see it grow! But we would also love to see more Ships chartered to offer the Sea Scouting experience to more youth! If you or someone you know might be interested in participating as a scout or leader (they need both, female leaders in particular), or you think your business or group might consider chartering a Ship, you are

invited to come to an open house at the Utah National Parks Council central office at 748 N 1340 W in Orem on Saturday, Feb 15 from 10 AM-2 PM.

Spread the word to any others who might have an interest in sailing and other water activities; come ask questions, learn more about the program, see if Sea Scouting could be an asset to your youth, family, or group in pursuing their activities and goals. See you there?
Contact Brenden Taylor for more information.
(803)-295-3277



Interesting Archival Photo.
I found this photo, (dated 17 October 2015), of the new parking lot at the Provo Marina.
Look at all those boats. Some with masts up. Some are down. I can pick out 3 of our boats beside the white ranger truck just outside the dry storage gate. Fast forward to 2019...

We found out we cannot park in this new parking lot (got a citation). The newly designated parking lot for boat prep is just north of the "west ramp", next to the park toilets (according to Ranger Holt). Make sure you pay the park entry fee. Read your contract/agreements multiple times. Read and obey all the signs. Have all your documents and registrations handy. Current registration numbers on the bow of your boat. Make sure you have PFD's, current fire extinguishers, First Aid kits, etc. Quagga Mussel forms must be filled out.


Get your ducks...
Provo Bay is an awesome place to explore by boat.
The photo above is a "very low water" aerial shot, but there is a deep enough channel, if the water is high, (like this year), that a shallow draft boat could get into Provo Bay. Lots of water fowl. Navionics can also help you find that deep channel that will give you access.



Navionics IPhone image, chart detail, of entrance to Provo Bay.


Provo Bay vistas.
Spring water levels will allow access to places like this.
Most likely no algae bloom too.
Always plan for a "kedging off" opportunity.

Current Utah Lake water level.
96%



Winter Sailing Seminars Hosted by Lindon Marina


Every Thursday, 7 - 8:30 PM
Seminar Dates
February 13, Boat Safety Equipment, Peter Jorgensen.
February 20, Chartering in Tahiti, Mike Harmer.
February 27, How to Purchase Your First Boat, Melani Evans.


March 5, Chartering in the Canadian Gulf Islands, Todd Frye.

Dodd Narrows


We can always learn from others mistakes.
NEVER sail with your fenders dragging.
What else can you critique?

Bonneville School of Sailing
www.bonnevillesailing.com
801.636.5204