Who knew?



If you look close, there are little summer cottages and docks on every peninsula.
What a magical little place to have a boat.
Where in the world could this place be?


Lot's of Islands
178,947 to be exact.
549 permanently inhabited.

548 like this one.
Some bigger and some smaller.



This country evidently does not have "capacity plates" on their boats.
Anyone guess where this is yet?



Pretty good last clue.
Could be interesting.
When not doing this... try this.

Maybe a language translator would help.

For an incredible, "other world" sailing experience,
maybe sailing in Finland will satiate your wanderlust.



Nähdään myöhemmin!








If Finland is too far away,
Try Catalina Island




The last two "Blue Water" trips of our off-season . . .




Monohull


Feb 26, 27, 28, 2020



Catamaran


March 24, 25, 26, 2020



Only 22 NM away from Long Beach.
A great way to experience "blue water" sailing.
Work on progress towards your SLC license.
Learn the systems of a "big boat".
Check out on-board charts.
Use electronic navigation.
Take the helm.
Make life long friends.



Sail to Catalina in comfort aboard a 44' Jeanneau monohull.

OR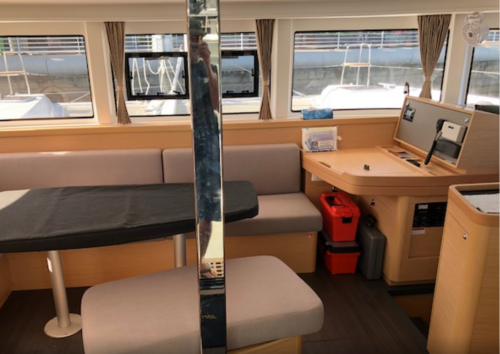 Sail on a roomy 4 Stateroom Cat



Airy & Bright Catamaran Staterooms




The island has some incredible restaurants.

Lunar New Year
January 25, 2020




Winter Sailing Seminars Hosted by Lindon Marina


Every Thursday, 7 - 8:30 PM
Seminar Dates


January 23, State of the Lake, Eric Ellis, Director, Utah Lake Commission.
January 30, Principles of Celestial Navigation,

Emery George

.
February 6, Marine Electronics, Dewitt Smith. Marine Solar, Chad Chorniak.
February 13, Boat safety equipment,

Peter Jorgensen.
February 20, Chartering in Tahiti,

Mike Harmer.
February 27, Chartering in the Canadian Gulf Islands, Todd Frye

March, TBA.


Our local Sea Scout organization has it's eye on a Hereshoff small boat building project.
"Sea Scout Ship 1000", is always looking for young sailors to discover this wonderful opportunity for character building, and trade skills.
Contact Brenden Taylor, 803-295-3277 to answer your questions.

The Voyage of the James Craig.

Bonneville School of Sailing
www.bonnevillesailing.com
801.636.5204