It's been a newsletter wasteland for the last 5 weeks.


So here's some news!
This 2019 November Catalina Cruise will be our 16th crossing...
and we'd like to have you come join us.
November 6, 7, 8, 2019.
Work on some of your "Big Boat" skills on a 42' catamaran.
Some hands on training to check off on your SLC list.
Always an enjoyable get-away to a very special place.
Great food, great sailing, great friendships formed.



Fall is a perfect time to do some great sailing. Less heat and no bugs!
We have openings in the following time slots.
If these class times don't work for you give Louise a call for other available times.
Also, if you. have your own group, call soon so we can fit you in before our season ends.
BASIC KEELBOAT
MONDAY/ WEDNESDAY
4:30 pm - 7:30 pm.
September 30, October 2, 7, 9, 14, 16
FRIDAY/SATURDAY
Friday evening 4:30 - 7:30
Saturday 9 am to noon & 1 to 4 pm.
October 11, 12, 18, 19

INTERMEDIATE
3 DAY COURSE (1 opening)
October 6, 7, 8
Designed by sailors...
for sailors!
(or anyone in extreme outdoors conditions).
Bonneville would not be supporting this revolutionary new skin defense,
if we did not believe it was everything it claims to be.

If you have ever used anything with the Harken name on it,
you know it's going to work...and work well.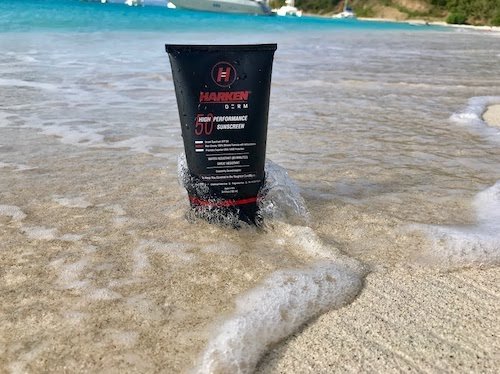 We've been using Harken Derm out on Utah Lake for a couple months now,
under high UV levels of desert sun, and have found it to be a superior sun block.

Bonneville will be making this impressive sun block and skin care

available

,
starting October 1, 2019.



S

ave our Sailors
S

ave our Skin


S

ave our Seas



The Panama Canal Authority has announced it will DOUBLE the rates for most pl

easure yachts from $800 (for boats under 50 feet) to $1600. And please note: that's just the fee for transiting. Additional costs for inspection, security, bank fee, tax, line handlers, lines, bumpers, agents, etc., will likely get you closer to $1200. Rates for transiting the canal will take this huge bump January 2020.




3 day long rigging workshop
Brion Toss
Port Townsend
October 4,5,6, 2019

Wayag
(Best viewed Full Screen)

Stopper Knots


Baja Ha-Ha XXVI
Cruising Rally
San Diego - Cabo San Lucas
November 3 - 16


Follow our Canadian Gulf Island cruise on Bonneville's Facebook and Instagram
September 17 - 27, 2019.
Bonneville School of Sailing
www.bonnevillesailing.com
801.636.5204