San Diego Sail & Offshore Passage Making, on the horizon
Our Day 1 evening tie-up at the Hyatt Regency docks in Mission Bay.
San Diego Sail.
Could be pretty nice.
If 3 days of sailing in San Diego is not enough for you...
Try Bonneville's OPM class


OFFSHORE PASSAGE MAKING


being offered again.



1 to 4 weeks of extended sailing on Atlantic"blue water",
with a 100 ton master.





Off Center Harbor: sailing/boating/life styles videos,
to augment Bonneville's upcoming Winter Sailing Seminars.
Thank you to Steve and all at Off Center Harbor, for their generous support of our seminars.
Become a member. See what you've been missing.


We understand, via the sailing grapevine,
that Chad and Peter have shattered the 2017 Crosland Trophy record
(for number of miles sailed in a 24 hour period, on Utah Lake).
They picked a recent "dark and stormy night" to venture out,
establishing what may become a very long standing record.
(24 hours, 94.6 nautical miles).
Maybe we can get them to tell us all about it in a Winter Sailing Seminar?



Still sailing out of Lindon Marina, Utah Lake.
In fact, Chad and Peter did their record breaking 24 hour sail out of this marina last week.
19 sailboats in their slips, as of November 9, 2018.
Nice day to be out on the water.



November 10, 2018,


Macgregor 26 sailing

on a beautiful day out on Utah Lake,
reaching from Lindon Marina to points unknown.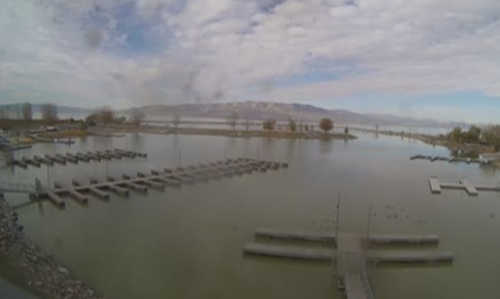 No sailing out of Utah Lake State Park Marina, Utah Lake.
"0" boats in slips as of November 9, 2018.
(Actually as of October 31, 2018).
Didn't taxpayers just spend over 1.5 million dollars to dredge this harbor,
so folks could get out to enjoy the lake?





We are looking for a "donation trailer" for a recently acquired Laser sail boat.
(looks like the two-wheeler above).
Thanks for your help. Give us a call:
801-636-5204


While we're looking for stuff...



The Utah Chapter of the Sea Scouts is looking for a place to meet and repair boats.
Something like a large garage with a high ceiling would be perfect.
If you know of anyone who has such a building / facility, please contact us.
Thank you.
801-636-5204



AND


Our non-profit


New Horizons Maritime Center


has somehow lost it's web page.
It has just vanished.
We are looking for help building a new web page from the bottom up!
Also need a talented grant writer / fund raiser.




Wind Wagon of the Wild West.
I still get a lump in my throat when I see the Stars and Stripes pass by...
but when you see a dignified salute from a veteran
, to our nations flag,
I am humbled to tears.



Thank you to all our veterans


whether on land, on the sea or in the air.

Bonneville School of Sailing
www.bonnevillesailing.com
801.636.520
4


Click to visit
Bonneville School of Sailing!