Sail to Santa Catalina in November
What folks have said about past trips to Catalina:


"Long Beach to Catalina was an extremely fun adventure! Great trip for you if you are a first time sailor or experienced seaman. Todd and Roger were both very knowledgeable and a great resource for sailing instruction and tips. Loved the trip and would do it again." Daniel



"For years I have wondered how to experience sailing on the ocean. It was great to find this adventure cruise that originated locally, was very affordable and was with great friendly people. My dream was fulfilled!" Jay



End of Season lessons beginning soon
call Louise to schedule your reservation
801-636-5204

For sale 1962 Schock Thistle excellent condition
The sail plan consists of a main, jib, and spinnaker which are all in good condition
with an additional set of light weight competition main and jib sails. The boat can be easily rigged by one person and is raced with a crew of 2 or 3, although it can be sailed by one person in lighter air. The Thistle is a round bottom boat which causes it to increase in stability as it is heeled, or as weight is added. The boat has a planning hull, and will plane easily in 10-12 knots of breeze. It moves very easily in light air, and is extremely seaworthy.
$1800.00 includes Yacht Club trailer with new tires.
Contact: Scott @ 801 706-4701
Great opportunity to sail in Croatia
A 2018 year model Jeanneau 479 is available for chartering through the owner. The boat is under the management of Sunsail charter company and is located in Dubrovnik, Croatia,
a popular destination in Southern Adriatic coast. She can be chartered directly through the Utah owner at a substantially reduced price compared to reservations made via Sunsail.
She is 47 feet long with 3 cabins and 3 heads.
Additionally, the husband/wife owners are willing to sail the boat with those who are interested to jointly charter her and share the expenses.
For information the owner can be reached at 435 512 5421.


They do run run run...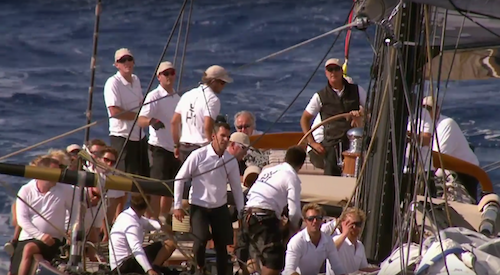 Maxi Yacht Rolex Cup, September 2

Always great advice from Practical Sailor


How do you get rid of Quagga Mussels?
Remembering Aretha

Bonneville School of Sailing
www.bonnevillesailing.com
801.636.5204