Perseid Meteor Shower, San Juan Islands, Spinnaker Clinic
Thanks for your input on our recent Adventure Cruise questionnaire!
Results are coming in and it looks like the San Juan Islands are at the top of the list with the BVI's a close second. We are now in the works of putting together an Adventure Cruise to the beautiful San Juan Islands for this fall.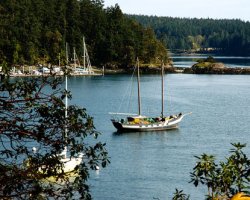 As poor as the weather was for the first half of the season we are making up for it now with some great sailing conditions. Come on out and join us for an exciting day on Wyewacket for our Spinnaker Clinic on the 19th & 20th of August. We are also beginning to schedule for our end of the season classes.


The most spectacular meteor shower of the year is in progress and will peak in three days. Check it out at
Perseid Meteor Shower
.