If you sail on Utah Lake...
You may want to attend this upcoming Utah Lake Commission, Governing Board Meeting,
7:30 AM (Yep, early morning), Thursday, November 16, 2017.
Utah County Health & Justice Building in Room 2500/01
located at 151 South University Avenue in Provo.

Dredging the entire lake... the main topic of discussion.
(???)

Sail the "outside"
In a new Marina Sailing Jeanneau


Jan 17 - 20

, 2018
Great Low Season Rates
Couples Rate too
Navigation Log book included in price.



Nothing but Blue Pacific on your port, and Catalina on your starboard.
Drop anchor on the west side of Catalina Island.
Quiet. Beautiful. A world apart.



The west side is full of surprises.



Little Harbor, west side of Catalina.



Catalina Harbor, west side, as seen from Banning House.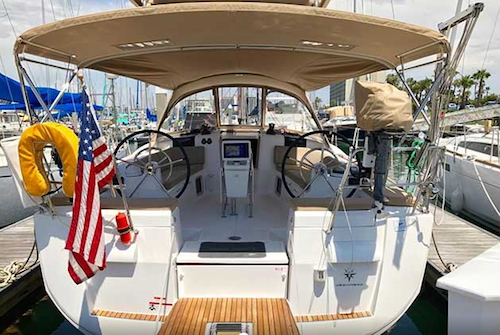 Awesome Jeanneau 44
A popular model when chartering in the BVI's, and elsewhere.
We'll be focusing on "old School" navigation basics on this trip.
LOP's, DTS formulas, paper charts, ships compass, DED reckoning
anchoring out, all meals prepared on board.


Clean, bright interior of this beautiful Jeanneau 44.
We're only taking 8 crew.
First come, first served for private state room reservations.


Who Knew?
Magellan did not circumnavigate the world.
The first person to complete a world circumnavigation was
Juan Sebastián Elcano.



Foxy's Restaurant slated to open.
Thanks for your help.

Utah Lake level slowly on the rise.
-4.02


Bonneville School of Sailing
www.bonnevillesailing.com
801.636.5204