Saturday, November 4, 9:00 AM. Lindon Marina.
Steel poles, purchased by the Utah Lake Commission,
await sailing community volunteer install crew.
Red Right Returning
Concrete forms take shape as more volunteers show up.

Great weather for playing around with concrete.



Harbor Master and Lindon Marina owner, Ron, gives one last coat of paint.



Things are coming together.



Green pole's in place,
lookin' plum.

How's the concrete crew doing?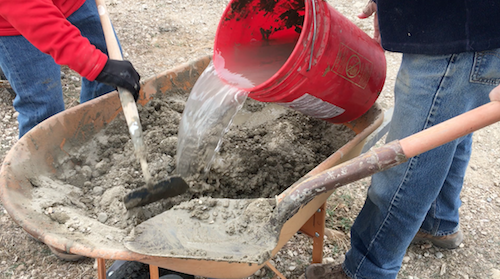 Used every bag of concrete we could find...


Then we went high tech with delivered mud. Nice!!

Scuttlebutt from our construction crew was that a boat attempted to return after dark, just 3 days prior, missed the marina (due to flashing red and green buoys being removed) and ran aground in the marshy area just north of the Lindon Marina. Luckily no one was hurt and no boat damage. These new jetty lights are a huge safety upgrade for the Lindon Marina. High fives to all who participated in the Lindon Marina jetty light project.

An impressive volunteer install crew got the job of planting two, 21', steel poles in concrete, start to finish in a record time of just 4 hours. That includes making concrete forms, painting both poles, assembling forms on site, leveling, mixing, pouring and finishing work...as well as making a pancakes, eggs and bacon breakfast.

Chad was an awesome Job Boss, with on site contributions from Ron, Mitch, Dale, Rob, Kirk, Stan, Dan, Roger, Tom, and Peter. Also, thanks to all who contributed financially.
This was an impressive sailing community accomplishment.

Installed poles now await solar powered red and green flashing lights
promised by State Parks.


Do you have a Kiddie fire extinguisher on your boat?
(or in your car or at home?)
You may have a defective product.


Smells kinda like a "book deal".




Roger racing in the Ullman Sails Regatta, San Diego.


Who knew?
Novaya Zemlya effect.
What is Novaya Zemlya effect?
NPR broadcast
(scroll down all the way to Act 3)
The Sun Also Rises

Always worth seeing again.
(Use full screen)


Bonneville School of Sailing
www.bonnevillesailing.com
801.636.5204