Free Sunset Sail Winner & New Contest, Clinic & Lake Update
Bonneville School of Sailing
We have a

FREE Sunset Sail Winner

for our Facebook contest!
Lisa Adams



Every time we add another 75 fans we will have another drawing for a free Sunset Sail. Once you click Like on our
Facebook Page
you will be entered each time we have a drawing.




SPINNAKER CLINIC



We are now reserving spots for our 2nd Spinnaker Clinic to be held on August 19th & 20th. This is an exciting and informative clinic for those who own a spinnaker or are thinking of adding one to their inventory. It's also a great opportunity to compare downwind performance with and without a spinnaker.

You've probably heard the saying, "There's a big difference between excellent sailors and excellent teachers." Tim Adams is one of those rare individuals who can draw from an impressive history of ocean racing and pass that on, in clear and easy to understand hands-on appplications.


Tim will de-mystify this dynamic sail in a relaxed controlled atmosphere. He will demonstrate the packing, deployment, trimming, jibing and believe it or not, a little up-wind sailing with the chute, onboard Bonneville's Olson 30.

This is a
great opportunity to bring your entire crew onboard Wyewacket as a group. Sign up 3 or more crew and we'll give you a group discount.
Don't forget the Friday night BBQ at the marina. Grilled Italian Spidini, pasta salad and homemade Ciabatta bread with dipping oils.


Comments from last year's clinic:
"As a long-time sailor, the Spinnaker Clinic was my first class at Bonneville. The class far surpassed my expectations. Not only did I learn how to fly the chute, I also gained additional confidence and boat handling skills, as well as fun picking his brain with all kinds of sailing and racing questions." Steve


For more information go to our Spinnaker Clinic page.



With Utah Lake levels at all time highs, crews have been busy raising the harbor's breakwater jetties.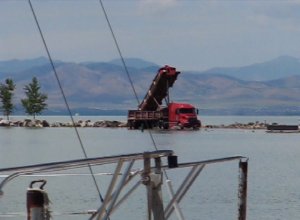 Let's go sailing!

Bonneville School of Sailing
www.bonnevillesailing.com