2017 America's Cup

Foiling
(more like flying)




Lets sail off to Catalina!


Big Cat Blue Water Sailing Course
Coming September 13 - 15, 2017


3 days of crusin' around Santa Catalina Island
We've received enough requests to do this popular course again.
Space is limited, so get your name on our reservations list.
Private stateroom rates and deck hand rates available
Learn how to pick up a mooring ball.
Learn how to navigate with chartplotters as well as paper charts.
Learn VHF radio procedures for requesting harbor clearance.
How to deal with large freighters when crossing shipping lanes.
Dinghy operations.




Fathers Day Special









Folks at Jordanelle know how to throw a party!


Since 2007, Jordanelle State Park has partnered with Marine Products to bring the annual Fire on the Water; a fun festival with boat demos, hot dog eating contests, live music, fireworks and more! Vendors from all around the state come to show off their goods and sell some of the best tasting food around. There are activities for the kids and even a boat parade of lights held on the water before the big fireworks show on the water finale!! Check out the video below from the 2014 "Fire on the Water".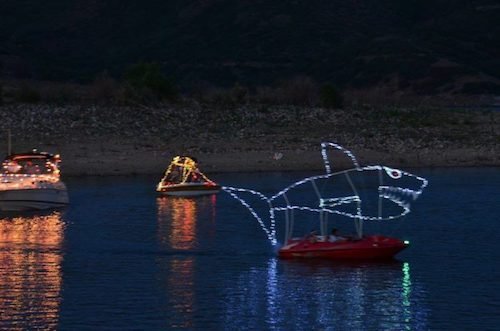 Fire on the water

From the highest to the lowest.
Who's got the most water?
Who's got the least?
1).

Jordanelle Reservoir (Wasatch Co.) - 100.95 %


2).

Trial Lake (Summit Co.) - 99.58 %


3).

Washington Lake (Summit Co.) - 98.75 %


4).

Deer Creek Reservoir (Wasatch Co.) - 98.49 %


5).

Upper Stillwater (Duschesne Co.) - 97.93 %


6).

Lost Lake (Summit Co.) - 97.89%


7).

Currant Creek (Wasatch Co.) - 95.22 %


8). Starvation Reservoir (Duschesne Co.) - 90.78%
9). Strawberry Reservoir (Wasatch Co.) - 85.71 %
10). Utah Lake (Utah Co.) - 72.12 %



New pump house (the one on the left) pumping water out of Utah Lake, June 12, 2017.
This location is the start of the Jordan River, which flows into the Great Salt Lake.
Utah Lake has been holding at about 70% full for about 2 months now.



Jordan River plumb full.

What about Bear Lake?
What about the Great Salt Lake?
What about Lake Powell?

We had quite a few new sign-ups for our newsletter at the recent Utah Lake Festival, June 3.
Check out this interesting You Tube info, if you missed it last time.
Viewing Nautical Charts on Google Earth.




Sign up here.
Lots of chances to do some fun things for the upcoming Sailstice.

Bonneville School of Sailing
www.bonnevillesailing.com
801.636.5204