Catalina Cruise #11 completed
March 15 - 18, 2017
The new (huge) Fountaine Pajot 44' barely fits into the slip, at Rainbow Harbor.
A beautiful new cat from Marina Sailing, getting checked out for our
March 15 - 18 Catalina trip.


The master suite. Sailing in style.


Day 1
On our way to Isthmus Cove (Two Harbors), hundreds of Dolphin crossed our bow,
as well as two, big, fast moving freighters.
Our AIS worked "as advertised".



Harbor Reef Restaurant was a welcome relief after a windy and bumpy crossing.


Day #2
For a small country store, we were able to find last minute items...
including sharks tooth necklaces.



Discovered this self serve, 24/7 gas pump, to top off our dinghy gas tank.
$6.20 a gallon


The morning sun showcases how recent California rains have blessed the island
with beautiful green hills.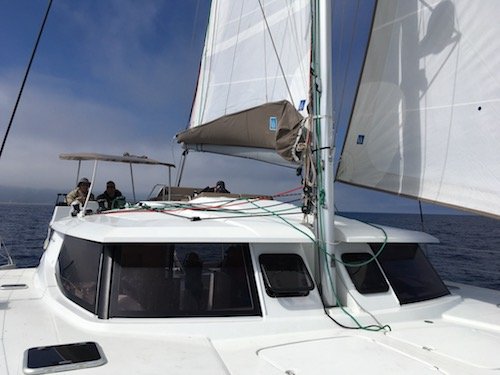 What are the odds?
Another Fountaine Pajot just happened to be leaving Isthmus Cove, bound for Avalon, the same time as our departure. If you have two sailboats in the same proximity...
you know what that means!



The only thing more fun than racing sail boats,
is hangin' with Thayne and Jim.



Low morning clouds eventually vanished under the suns warming rays.



Time for lunch.
Chicken Tortilla soup on rice and chips and salsa.



The always welcoming landmark of Avalon. The iconic art deco Casino.



Time to get this party started.



Jim and LeeAnn and then Thayne and Moni walkin' on the wild side.

TO BE CONTINUED...


RUSTY BUSTER





Time for a sailing tune-up?


Friday, March 31, 6 - 8:30 PM
$50.00
Reserve your spot. Call Louise @ 801-636-5204


Utah Lake "real time" wind data,
not just a dream anymore.




We are still looking for financial support from the sailing community.
Please contact the Utah Lake Commission with your financial pledge
to get anemometers out on Utah Lake.
Give Eric Ellis a phone call and discuss whatever you can donate.
801-851-2900




New Horizons Maritime Center
to present at
Teaching With Small Boats Convention


What was that?

Bonneville School of Sailing
www.bonnevillesailing.com
801.636.5204