Broadcasting LIVE, via Skype,
from sunny Barra de Navidad, Mexico
Seminar # 5
Thursday, February 16, 2017
Clay & Kim Chivers, Provo Marina dock mates...
tell us Mexico has more to offer than just quiet cactus lined coves.
If you've ever been curious about sailing in Mexican waters,
bring your questions:
(How did you first get into sailing? How did you make the jump to cursing? What was the scariest situation you have been in? What is a typical day in your cruising life? What sailing skill of yours have improved the most? What do you miss the most about living on land when you are on your boat? What are the 5 most important books you have with you? What is your favorite meal to cook on your boat? How do you provision your boat? How long do you usually stay in one area? What features do you love the most about your boat?)
and talk direct, via Skype, to Clay and Kim.
Seminar #6
Thursday, February 23, 2017
NEW HORIZONS MARITIME CENTER
What we've been up to.
Fourth grade students learn about how a sail boat works.

Utah Lake Commission Public School System Field Trips, at
ULSP.
Scouts learn how to "flake" a sa
il.
NHMC has a fleet of Stars that will serve not only as restoration projects,

but historically important sailing platforms.
The Bella 10 is introduced at TWS
BA.
Are you an educator, or parent that would like maritime subjects introduced to your stude
nts?

Give us a call
801-404-0098


One of four Bella 10's being built at Glendale Middle School.
How would this STEAM project impact your school?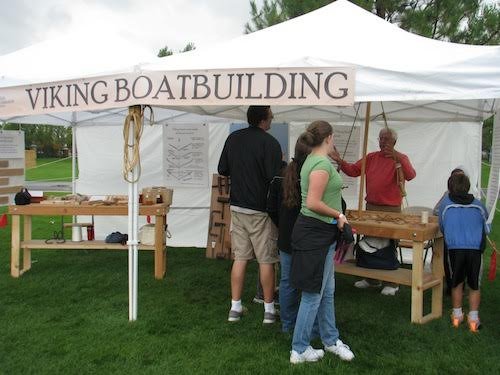 DeWitt trying to command
eer crew for the next Viking ship leaving port.
Thanksgiving Point
Renaissance Faire.
Recently donated by a Colorado judge, this E-scow has a "
Hot Rod Lincoln"reputation.
After a bona fide thrill ride, we managed to squeeze in a knock down,
just before sundown.



But wait...NHMC has been doing much more

.


Join us February 23 to find out what's on our calendar.


If you are an educator, looking for new/innovative STEM based,
hands on maritime educational opportunities,
we would like to talk to you.


At-risk youth




Scout groups




Community out-reach programs




Public school presentations




Corporate team building
Valentines Day Special



Discover Sailing


2 for 1 price.
$99.00 ($190 value)
Call Louise
801-636-5204



Of all the iterations of the venerable CCC's I've consumed throughout the eons,
the recipe below has to be one of the best.
Those who attended Winter Sailing Seminar #4,
know of what I speak.
Ingredients:
1 cup (2 sticks) Butter, Softened
3/4 Cup Brown Sugar
1/4 Cup White Sugar
1 small package of Instant Vanilla Pudding Mix
2 Eggs
1 teaspoon Vanilla Extract
2 1/4 Cups All Purpose Flour
1 teaspoon Baking Soda
1 package (12 ounces) Milk Chocolate Chips
Directions:
Preheat oven to 375 degrees Fahrenheit.
Beat the butter, both sugars, pudding mix, eggs, and vanilla extract in a large bowl.
Beat until creamy and fluffy.
Slowly mix in the flour and baking soda.
Hand stir in the chocolate chips.
Drop by tablespoonfuls, onto a an un-greased cookie sheet.
Bake for ONLY 9-10 minutes.
Remove from oven and let cool about 10 minutes before eating.
Thanks to Susan Judd for this most outstanding contribution to our seminars.




Catamaran Cruise to Catalina Island.
March 15 - 18, 2016.
Want to learn "big cat" systems?
Build your confidence for your next BVI charter.
(Picking up a mooring ball, anchoring, chart plotter use, radar, paper charts, head systems,
twin diesel engines, MOB recovery, electric winches, reefing, galley systems, AIS, VHF to harbor master communications, Catalina mooring procedures, dinghy operation.)
And do it all on board a new Fountaine Pajot Helia 44?




Combating Mold and Mildew.
Some thoughts on humidity on your boat.
Life is Like Sailing You Tube.



One of the top 5 cool things I discovered at the Seattle Boat show,
HyperVent, venting mattress pad.
Reduces mold between mattress and gel coat surfaces.



Personal experience has proven that "Driveway Heat" (accept no substitutes),
poured into a small plastic colander (suspended in an ice cream bucket)
will suck out all kinds of moisture from your over-wintering boats interior.

How about high quality ( $expensive$ ) air filters for removing mold spores?

Make a few small solar air circulators to help keep mildew and mold down.

Some mold / health factoids.





Turn your West Wight Potter into a screamin' machine.
with 3Di technology.




It ain't over, til it's over.
Vendee Globe boats still out on the water.





Utah Lake continues to inch up.
Looks like the lake-o-meter had an issue around January 17. High tide?



This just in from Gene Shawcroft, CUWCD.
The green line is our water year.....so far :)


Hobble Creek runoff feeds into Utah Lake.
Lake levels should be interesting this year.


Bonneville School of Sailing
www.bonnevillesailing.com
801.636.5204