Day 3
Catalina Adventure Cruise
November 3 - 5

Woke up Saturday, November 5, to thicker than usual Avalon fog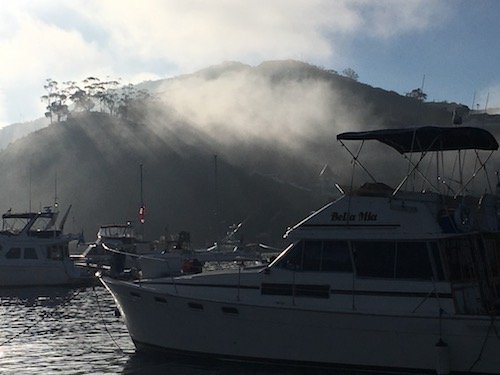 The sun started to break through, creating impressive vistas.
Catalina Renegade Triathlon started about now.
Leaving Avalon to try to find Lovers Cove, and do some snorkeling.
Found a few interesting beaches and rock out-cropings, on the southeast end of Catalina.




As we got closer, we noticed tons of sea lions on the beaches.




It was obvious they wanted this turf for themselves.

Nix on the snorkeling

.


Setting a course for Long Beach, life is good,
the sun is out and the boat is moving nicely,
until...
Heavy fog!
Keeping a compass heading coming into the Long Beach sea wall is not accurate enough in a fog like this. I have yet to find a chartplotter on a charter boat that behaves like it's supposed to, when you want it to. Somehow, Joel worked his magic after lots of button pushing, and got the darn thing to work.
We course corrected to thread our way through the sea wall opening.
And just like that, the fog lifted and we were inside the Long Beach Harbor.
We could use this bad boy to help maintain our Provo Marina.
Sails furled, fenders out, sun going down...time for reflection.
Tomorrow we all face the prospects of going back to our families, homes and jobs,
but we really never leave this magical place.



Fog bank rolling into Los Angeles as we get to cruising altitude.





Follow the solo around the world race event
Vendee Globe

How do they do it?



Utah Legislators have allocated 1.5 million dollars for dredging the Provo Marina.
(it's in the bank)



Utah Lake water level looks like it's on the rise.
Maybe engineer folks ought to get going on dredging the marina ???
just sayin'



Utah Lake Governing Board Meeting, November 17, 2016
Jason Allen, ULSP Park Manager, says "dredging this spring, for sure".



Factoid Question Contest


How many cubic yards of material would be removed from both the inner and outer harbors of the Provo Marina, if you removed three feet of material?



Staging area in the visitors center parking lot, to assemble light displays
for a Christmas Light Show at Utah Lake State Park.
The electric sign at the parks entrance is asking $22 - $32 per vehicle.

Building a Fairlie 55, start to splash in 10 minutes.

Not all Norse Folk were born to pillage and plunder.




Happy Thanksgiving


As with the first Thanksgiving, various foods were spread upon the table.
We would like to share one of our favorites with you.


Cranberry Relish
1 12oz. bag or 3 cups FRESH cranberries
1/4 cup minced green onions
2 small Jalapeno peppers cored. Seeds removed. Minced. Approx. 2 tbsp.
1/3 cup sugar
1/4 cup cilantro leaves, minced.
2 tbsp fresh diced ginger
2 tbsp fresh squeezed lemon juice

Wash and pick over cranberries. Place cranberries in food processor and pulse until chopped but not mushy. Place in bowl and add other ingredients. Cover and refrigerate at least 4 hours, so flavors develop.



Mayflower II re-enacts crossing.
Have you researched your Mayflower linage?

O beautiful for patriot dream
That sees beyond the years
Thine alabaster cities gleam
Undimmed by human tears!
America! America!
God shed His grace on thee
And crown thy good with brotherhood
From sea to shining sea!


Bonneville School of Sailing
www.bonnevillesiling.com
8016.636.5204