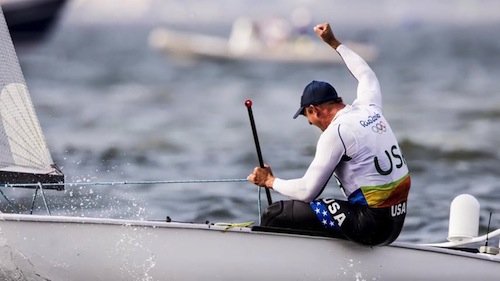 This is truly a great accomplishment
But as a nation, leading the medal count,
what does this solitary triumph say about the value we place on sailing?
If you haven't read Saving Sailing yet, this is a must read.
the excerpt below gives "right on" insight into today's lethargic interest in the sport of sailing.
Kind of scary
Let us start with basic age demographics. The average self-described American sailor is a white male, 40.1 years old. But that average is deceiving. The largest (43%) age group of sailors are 55 and older. the average age of a sailboat owner is 54.8 years old. The ratio of men to women is seven to one.
There is a meager bubble (13%) of young sailors between 15 and 24 years old, both girls and boys. However when today's sailor reach 25 they generally quit. So proportionately, almost nobody between 25 and 44 is sailing.
Sailing was and remains a favorite activity of the oldest boomers. Compared with U.S. census data, the average sailor is older than the general population by about 11 years, so the decline of sailing precedes the boomers retirement and death by about a decade.
A crucial fact: key age groups that might sustain the activity - kids under 13, women and early parents - are essentially not sailing at all. From the basic population data, it is easy to conclude that unless sailing can soon attract newcomers in all age groups under about 40, from all genders and a wider range of income levels - something that it is not doing well today - the future of the activity is bleak.


The Finn Class Olympic boat
through the eyes of the GBR coach
Park City Sailing Association
Doing their part to sustain sailing interest here in the desert
Deadlines approaching for "California Cruisin"
Hope you can get around to it
Channel Islands
September 14 - 17
Deadline September 1, 2016
Sailing a Big Cat to Catalina
September 21 - 24, 2016
Deadline September 1, 2016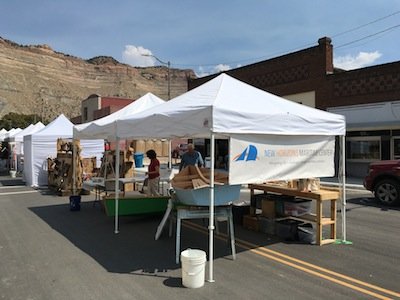 Our New Horizons booth on Helper main street raised a few eye brows.
Even sparked a "spirited" conversation on the constitution (?),
and governments involvement in regulating boating laws.
We're trying to spread the good word about getting out on the water.
More on our Facebook page.





Google Earth shows new Utah Lake pump house under construction

In true Olympic spirit
our on-land Sailing Prep Course finds out
who can heave a line the farthest





Crewless Robotic Sailboat to sail to Ireland

Bonneville School of Sailing
www.bonnevillesailing.com
801.636.5204