Due to a very short sailing season and continued requests to learn to sail,
we have decided to re-launch our land-based Prepare to Sail Class.
Not only will this class give you a jump start for when you begin sailing but it will
also help you prepare for the written test if you are planning on getting a
U.S. Sailing Basic Keelboat Certificate.

Some of the topics included in this pre-sailing series of classes are:
Theory
Physics
Terminology
Etymology
How to coil a line
How to tie common knots
Navigation basics
How to read a marine chart
Trimming sails for performance

Weather. Old ways vs. new ways
Chartering on a 40' Bavaria in Croatia, video

2016 Singlehanded Transpac in the record books
Olson 30, Kato takes line honors
with an elapsed time of 252.6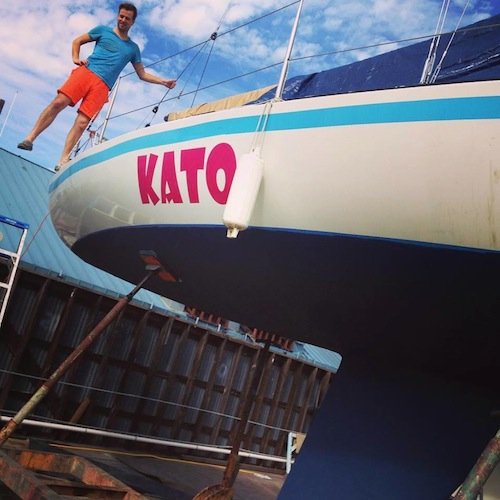 Skipper Jiri Senkyrik balances on Katos deck.
Wilderness 30 Domino wins Singlehanded Transpac on corrected time 249.6

Just in case you would like to try your hand at the Singlehanded Transpac
check out the information packed pre-race seminar.



CHANNEL ISLANDS ADVENTURE CRUISE




Don't miss out on a great opportunity to sail the Channel Islands
Lots to experience above and below the water.
September 14 - 17


PARK CITY SAILING ASSOCIATION
An invitation to meet some of the great folks at the Park City Sailing Association
has been extended,
as well as sampling some fine sailin' fare from the PCSA BBQ grill.
Please RSVP
August 3, 6 PM, 2016
Jordanelle State Park

VOLUNTEERS NEEDED
Learn stitch and glue boat building from NHMC Master Boatbuilder.
Assist in the completion of a Bella 10 dinghy
as part of the Helper Arts and Music Festival.
August 20, 21
Helper Arts & Music Festival
Helper, Utah
Contact DeWitt Smith for more information
801-631-9648
Bonneville School of Sailing
www.bonnevillesailing.com
801.636.5204