Bonneville's Racing clinic will be conducted by Chris Johnson. Chris lives in Seattle and is a veteran racer who has competed in numerous Swiftsures, Whidbey Island Series, Olson 30 Nationals, Melges 24 Nationals and Champion of Champions. He brings a wealth of competitive experience to share with us.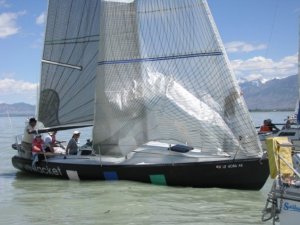 Our racing clinic will be conducted on our race-prepared Olson 30, Wyewacket. This boat won the 1991 Olson 30 Nationals on San Francisco Bay. Sail this proven legend, that big boat skippers call "The Giant Killer". Don't miss a unique opportunity to learn competitive sailing on a proven "Nationals Thoroughbred", from a knowledgeable and gifted "Nationals Professional".
Limited space (6 crew)
$210 per individual
Call to reserve your spot. 801.636.5204


Check out the action from last years Spinnaker Clinic:
http://www.bonnevillesailing.com/spinnaker-clinic.htm


ALSO COMING SOON!

Utah Summer Games Keelboat Regatta
&
Utah Lake Festival

June 4th at Utah Lake State Park


For up-to-date information on Utah Lake, go to The Utah Lake Commission's new website
or find them on facebook. Check out pictures of the new Land Tamer used to get rid of the invasive phragmites taking over Utah Lake's shorelines.