2016 Utah Lake Festival Regatta
June 4
(that's just 19 days away!)
Utah Lake State Park
Early On-line registration gets you a discount,
and helps us get food, medals and swag for the regatta.

Four Divisions
U.S. Sailing software PHRF handicapping

Some of the Great Swag!!



Handheld floating VHF with water activated strobe



NEW Dock lines



We are still looking for volunteer help
It's a lot of work, but it's a lot of fun too



We've got some skinny spots just off the diagonal jetty
but we've got them pegged.
Thanks to Roger and Sonar Charts for keeping us in deeper water.


CRUISE THE SAN JUAN ISLANDS
September 22 - 28, 2016



Fall in the Pacific Northwest can be spectacular.
Sucia Island will be one of our stops.





Get Wet Sailing publishes a great article on deck shoes.



NHMC E-Scow finally goes in the water.



Getting the E-Scow in the water is a team effort.
Jason does an early morning tow down to Utah Lake.



Mitch and Dale sorting out mind-boggling line set-ups,
then the mast goes up like a piece of cake.



Bending on sails was interesting too.
A monster main and no way to reef.
This could get interesting on Utah Lake.
Should we see if it floats?




No wind!
So why are we clocking 2.5 knts??
What's this thing going to do when the wind picks up?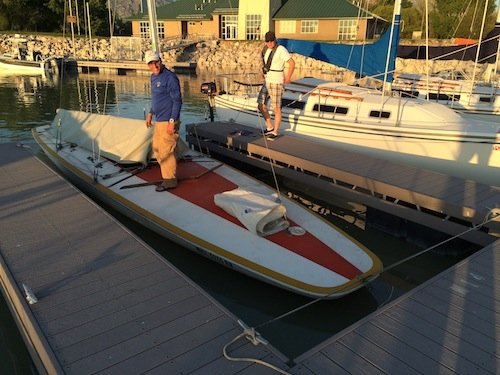 "The new kid in town"
kind of looks like a hot rod.
Thanks to all who helped get the scow from Dillon Lake, Colorado to Utah Lake:
Louise, Aaron, Suzanne, Mitch, Jason, Dale.
Saww... wheet!

2015 E-Scow Nationals Documentary
Little Egg Harbor Yacht Club, New Jersey
( 1 hour, 19 min. long, but worth the watch )


NHMC Bella 10's to be launched in the Jordan River



Glendale Middle School 7th graders with one of the 4 Bella 10 boats
that will be launched on May 24th, 2016

Please join us for the naming and launch ceremony


We've been invited to help fill out crew assignments for the Park City Yacht Club,
aboard their Olympic 6 meter Elliotts.


A great way to learn racing concepts from experienced skippers.




Contact us to reserve your spot.




Bonneville School of Sailing
www.bonnevillesailing.com
801.636.5204