We are looking forward to a great sailing season in 2016!

SNOTEL models have the Utah Snowpack Levels,
for the Provo River drainage at 123%.
The lake has come up a foot.


El Nino predictions lookin' good.

Utah Lake 47% full

Valentine's Couple's Cruise to Catalina Island
Enjoy spacious accommodations on a large Catamaran
Private Staterooms, hot showers, fully equipped galley and more
February 17th - 20th, 2016
Utah Lake Festival Regatta 2016
needs volunteer help!

In an effort to keep the quality of this fast growing sailing event on the top shelf,
we are looking for dedicated volunteers, to insure we have an excellent regatta.
If you are interested in growing our sailing community here along the Wasatch Front,
regatta organizers are looking for:
Committee Boat crew, BBQ / banquet committee, awards presentation M.C., media coverage, event photographer, videographer, drone pilot, corporate sponsors / small business sponsors, event first aid personnel, safety / chase boat
Give us a call. We would like to hear from you
801-636-5204
Salt Lake Marina suffering from low water levels.

As long as you've got your boat on the trailer, come on down and join us for the Utah Lake Festival Regatta, Saturday, June 5. We have a mast crane and new and improved launch ramps. Utah Lake will be filling up with spring run-off, long before the Great Salt Lake water levels begin to rise..



This "bilge keel" sloop will have no problems sailing anywhere on Utah Lake.



Join us for our February trip to Catalina to search out the rare
Ninja Lanternshark.

February Catalina Trip



What makes us want to cross huge oceans??
Sailing diplomacy more effective than U.N. resolutions.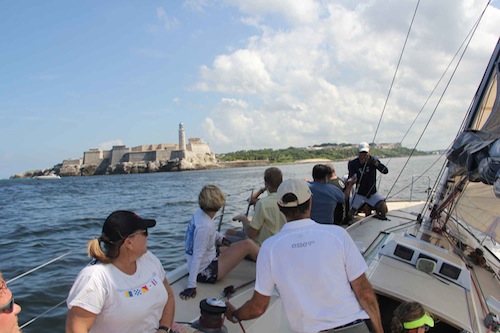 Conch Republic Cup
Key West to Havana
January 27 - February 6, 2016
an historic race in the annals of sailboat racing.
Bonneville School of Sailing
www.bonnevillesailing.com
801.636.5204