GOT SPIDERS?
Of course you do.
Please consider doing your part to keep the spiders that live on your boat
from spreading to other boats.
This year, there has been a noticeable increase in spider populations aboard our boats. Especially those boats that are not frequently used. To reduce the spread of "live aboard" critters, consider fogging the interior of your boat with an off-the-shelf fogging product. If you don't do some bug control before you take your boat home this season, you will likely be introducing our "little buddies" to your own back yard . . . and beyond.
Once your boat has been fogged, consider sealing orifices (like external through-hull openings) with duct tape so hornets/wasps cannot make winter nests in your boat.
If you don't close off the open end of your mast before storage,
you will likely have to deal with a bird nest next season while stepping your mast.


Looking for some "Blue Water" experience?
Join us October 21 - 24, 2015
We will be sailing a 46' Bavaria from Long Beach to Catalina Island.

STATEROOM SPECIAL!
Catalina Island Cruise still has two staterooms available.

Stateroom - Double Occupancy $990.00 ($200.00 savings)
Linens (optional) $45.00


Reservation deadline September 15, 2015.
Call Louise for your reservation at
801-636-5204
Conch Charters Dodges Hurricane Erica
visit their Facebook Page



Miakoda still having difficulties getting out of Utah Lake




Due to a huge ramp drop off, there is no way Miakoda can make it up onto the ramp.
Check out the sobering video on our Facebook page. (August 31, 2015)
Time to rethink the haul out.


Center ramp could probably use a RAMP CLOSED sign like the west and south ramps.
Miakoda trailer sustains significant damage after dropping off end of middle ramp, east side.
Bent axle, blown tire, bent wheel rim, trailer frame bent, adjustable bunks broken.

Ranger Search & Rescue boats have been pulled from the lake.
If you get in trouble out on Utah Lake,
The folks at the front gate are telling us don't bother calling 911...you're on your own.



Martin Frey, circumnavigating skipper of Amara,
returns to Utah, after dodging ice burgs in the high latitudes.




IOR Racing Yacht, Bay Bea, currently sits on boat stands in Utah Lake Dry Storage.
Palmer Johnson, built 3 sister ships of identical aluminum construction in the late 60's - early 70's. These ocean racing yachts were state of the art, fast, strong and nearly unbeatable.
Some are still competitive and actively sailing today.
Drop by Utah Lake State Park to see a bit of ocean racing history.


Bay Bea
1968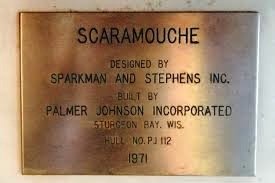 Scaramouche
1971



and Aura
1971

Bonneville School of Sailing
www.bonnevillesailing.com
801.636.5204