Timeshaver takes 2nd in class, 7th overall in Cabo race.
Scuttlebutt Sailing News on Cabo Race
Santa Cruz 70 OEX (10th overall) crew treated to dinner on shore at Mi Casa
Old Guys, on an Old Boat, racing in an Old Race.
A shaky start to the first Transpac.
Transpac beginings 1906
Newport to Ensenada race...preview of things to come
A history of Dorade
Three-pete in 2015 ??
Dorade you tube
The Ultimate Woody
CATALINA ISLAND ADVENTURE CRUISE
May 13-16, 2015
from Long Beach Harbor
(Historic start line for the Transpac to Hawaii)
Sailing on a spacious Lagoon 40
On shore comforts at the Banning House Bed and Breakfast, Two Harbors.
Then off to play with dolphins, sail in fog and emerge in fabled Avalon.
Not your average "Get-away".
As easy (and safe) as 1 - 2 - 3.
1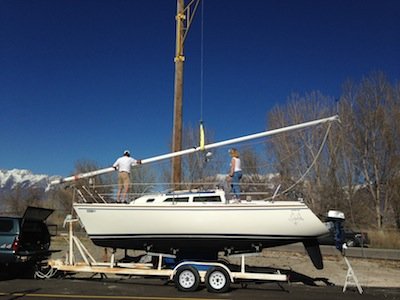 2
3
John and Cindy use the new mast crane to get the job done on Coyote, a Capri 26.
So far, about 4 boats have used the mast crane this spring.
This is a new service, provided free of charge to our sailing community.

Thank you to all the many contributors who have made this project a reality.


IKEA announces wooden boat kit

IKEA spokesman Bjorn Yestürdey, said a keen DIYer with two Allen keys 'could assemble the Smegbårj 20' sloop in a matter of months'. The boat's main feature was clever floor to ceiling shelving. It was priced £99.95 'including two free pine CD racks'.
Bonneville School of Sailing
www.bonnevillesailing.com
801.636.5204