It's lonesome down here. Waters up.
NO BUGS!


Lets go sailing!




You're invited.
Join us for our Seminar V
Utah Lake State Park, February 19, 7 - 8:30 PM
Emery George will tell us about his experiences aboard Adventuress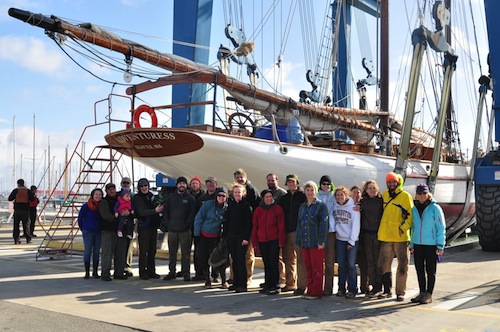 Adventuress in dry dock, with volunteer crew.
Seminar IV
"The Greatest Come From Behind Victory in Sports History"
Oracle Team USA, Americas Cup Champions
was a huge hit. Lots of good sailing vibes here.




Thank you Mark and Larry for your excellent presentation!


Mark Sunday, CIO of Oracle Team USA, reveals latest info
on the new AC 62 (now on the drawing board ),
for Americas Cup 2017 in Bermuda.
Impressive J-Class races to coincide with AC in Bermuda.



Thank you to our seminar Door Prize Sponsors:


West Marine
Distant Shores
Rudder Craft
Sweet Tooth Fairy
Energy Solutions
DeWitt Smith
Great Salt Lake Yacht Club
Get Wet Sailing


Conch Charters






Our February 26 seminar will be a real treat!




THE CELLAR DOOR




will be performing live acoustic "water music" (music for sailors).




Kick back and enjoy a memorable concert of really great music this evening.




Steve, Jeannie and Larry Vincent
have presented small intimate concerts, to solo appearances with the Mormon Tabernacle Choir.
Standing room only.
Banff Mountain Film Festival
plays to packed house at UVU.
These unique outdoor films are a "must see"
WE'VE STARTED SAILING
Our first sail of the 2015 season, can you believe on Valentines Day?
Tyler and Anna are now engaged. Our best wishes go out to them.
Check out our Facebook page for more photos. The Sunset was incredible!
Fly over the Seafloor of San Fransisco Bay
Pocket Yacht sails on Utah Lake
San Fransisco International Ocean Film Festival
February 26, 2015
Calling all film makers
The time has come for a
UTAH LAKE FILM FESTIVAL
Let us know if you have short film subjects about our sailing grounds.
Bonneville School of Sailing
www.bonnevillesailing.com
801.636.5204