Come Together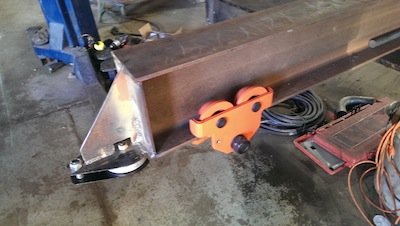 one and one and one is three . . .

Thanks to Ron MacDonald for making the mast crane come together!

Got to be good lookin'
DeWitt will be bringing his smoker down to cook up some
RIBS, CORNS, BEANS AND SLAWS
for our mast crane party (TBA), coming soon!
If you haven't already donated, please make the leap.
This party will be RSVP, to order food amounts.

Consider $25 per person (if you haven't already donated)
to support the cause and get some slaws.

OFFSHORE PASSAGE MAKING CLASS
BEGINNING SOON

April 11, 18 & 25, 2014
Registration Deadline: March 31st
Carrying Passengers for Hire
New and Improved Study Guide
for
Inland Lakes and Reservoirs, Captains Liscense


"Vessel Length" - The measurement of the permanent part of the hull, from bow to stern, across the deck down the centerline, excluding sheer. R651-215-1(2)
Say What?
Boat Terminology Primer
America's Cup Schooner Race

March 29, San Diego

Ocean Currents
and Malaysia Flight 370
If you can find the
Big Dipper

you can find the Little Dipper
and now the North Star (
Polaris
)
And now, roughly, your
latitude
.

Great Movie Night Viewing
This Nova Documentary is an interesting presentation on

"The Search for Longitude"

(break out the pop corn and watch full screen)

or

You could attend Bonneville's

CELESTIAL NAVIGATION CLASS

May 2, 9, 16 & 23, 2014

We're going sailing today - wish you could be with us!
Bonneville School of Sailing
www.bonnevillesailing.com
801.636.5204