New Halloween Cruise to Catalina Island, May Day
HALLOWEEN CRUISE TO CATALINA ISLAND


This is going to be a blast! Join us for our Catalina Adventure Cruise, October 30 - November 2nd and catch a guided
Ghost Tour of Catalina Island, or observe the Front Street Catalina Island Halloween Parade, or take in a scary flick at the impressive Catalina Casino Theater. This is a great introduction to Blue-Water sailing and an opportunity to learn to sail a big cat if you would like to. It is also good preparation for our upcoming BVI Charter Vacation.
Flight times look good and the weather and water temps are, traditionally, the best of the season. If you are brave enough, call Louise at 801.636.5204 to reserve your spot soon. Some say, if the moon is just right, a glimpse of the Flying Dutchman can be seen pointing handsome out to sea during a Halloween channel crossing. This one could fill up scary fast.


Catalina Casino
haunted theater
, complete with haunted pipe organ.
BVI CRUISE
April 2014

Another "exceptional" cruise. Let us know if you are interested in Bonneville's BVI Flotilla Cruise, April, 2014. We need to reserve boats well in advance to get our top choices. Reduce your costs by inviting friends and family to join you onboard your very own charter boat. Mike Harmer, our flotilla captain, will be close at hand to show us the islands, and suggest food, lodging and sightseeing possibilities.



Better hurry if you want to start crossing off your "bucket list" items:
1). Learn to sail.
2). Climb Everst.
3). Learn to scuba dive.
4). Drive a Porsche over 200 miles an hour.
Times a wastin' . . .We are now scheduling end of season sailing lessons.
Call 801.636.5204 and get going on that bucket list!


Mark Twain said it best: "Twenty years from now you will be more disappointed by the things that you didn't do than by the ones you did do. So throw off the bow lines. Sail away from that safe shore. Catch the trade winds in your sails. Explore, Dream. Discover". And I'll throw in my .02 cents worth....LEARN.

MAY DAY - MAY DAY - MAY DAY!
We need your help finding a new home for Bay Bea!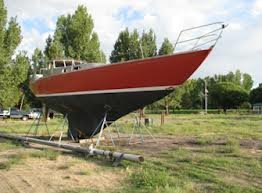 Utah Lake State Park to black top Bay Bea's current location.
Can you help us find a new home for our
Bay Bea
? We are looking for new digs to start restoration of this historicaly important SORC racing yacht. She is a major part of early ocean racing history. You can be a part of something that will change young peoples lives forever.
Bonneville School of Sailing
www.bonnevillesailing.com
801.636.5204