Utah Lake State Park Gets New Manager
Jason Allen is now in the drivers seat at Utah Lake State Park as the new Park Manager and we are looking forward to working with him. Read Bonneville's recent interview with Jason on our blog The Bonneville Sailor.





Phaedo loses mast in Transpac to Hawaii


The Transpacific YC received the following report: At 1830 UTC (1130 PDT) Phaedo dismasted in location 28 58.247N 130 09.576W. Everyone onboard is fine, we have secured the boat, cutting away the mast and section of the boom, and are now heading towards the LA area under engine.



Keith Magnesson from Ullman Sails on West Coast Warrior brings us up to speed on his position in the "Pac".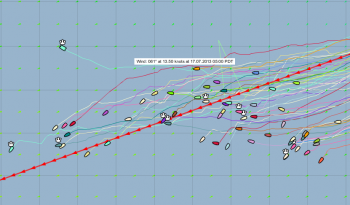 Update: Of course all things happen at the furthest place from land. We have had a little vibration for a day or so that turned pretty violent last night. The boat would not break free and plane and the driving became pretty rough. We tried another back down but no luck. We then checked out everything we could around the boat but found nothing. We figured it might be a net and planned on diving the boat in the morning.

I took my GoPro at first light and video tapped under the boat. This requires about 30 minutes of making the boat go 3kts to get the right shots. After checking out the keel, sail drive and rudder we found nothing. Got some cool video though. Then I did the same with the other side of the keel and found a chunk out of the top of the keel. Not sure what happened but as soon as we hit 9kts the wheel starts to vibrate and we get a shudder. We still cannot believe that this chunk is doing it but that is the only thing we have found.

Sucks because we rallied back to second in class and had a good chance. Spirits are high and we are laughing all the time.. even when we were stopped and video taping. Great crew and we are all good but a little disappointed that getting on the step is next to impossible. Now I figure we have to really reduce sail in the big breeze to make the boat more drivable. Game on though because we are not giving up!

It is time for business. Another day at the office out here and last night was the beginning of the end. I got some good advice from a friend in an email.. He basically told me to buckle down, be a leader and crack the whip a little. He also told me not to be afraid to downsize when the gnarly stuff comes. Thanks man for the advice because I put the first part to good use. The second part, well I will talk about that later. Crew meeting last night and I broke it down. We have worked hard and have a chance so let's race hard, push the boat be smart and hopefully get a little lucky. Must of worked because at 8am we got the leader board and were second in class!
Louis Vuitton
(Americas Cup preliminaries) continues.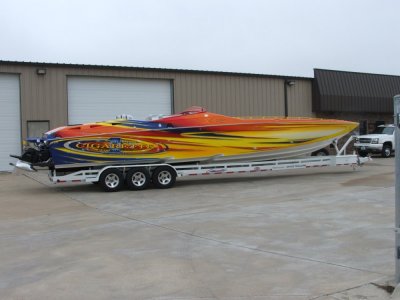 THE CIRCUS COMES TO TOWN
Once a year, 20-30 waaaayyy overpowered, rooster tail flying, ear drum bustin', crazy fast, fish terrorizing, teeth jarring cigarette boats come to town for their annual "
Poker Run
". Watch the show this
Saturday
(morning most likely) on Utah Lake. A few boats may come in from out of state Friday evening. Anybody know the
fuel consumption
on one of these bad boys? I'm talking about when they put the hammer down . . . which is always, right? That's why they bought the boat!




Now that's what I call "surfin'





Rocks of unusual size (ROUS's) are starting to appear in the lake.

Bonneville School of Sailing
www.bonnevillesailing.com
801.636.5204