USA Regatta 2 1/2 Weeks Away,
USA SAILBOAT REGATTA - NOW 2 1/2 WEEKS AWAY

Held in conjunction with the Utah Lake Festival on Saturday June 8
Provo Marina

Early Registration Discount


Come join the fun with new format of combined Keelboats, Catamarans, & Dinghies.
Check out the latest Promo Video for the 2013 USA Games at Utah Lake.
And thanks to Get Wet Sailing for producing this video!


INTRO TO RACING
June 13, 2013
Had a great crew turn out for an exciting clinic aboard the O30's.


"I wanted to give my input on our experience. I really enjoyed Steve as our captain, he was so great at communicating what he wanted and giving clear instruction on how that boat operates and how it might be different than the boat we are used to. The weather was super exciting, and kept us on our toes. Overall it was a fantastic experience - really enjoyed the company". Katie.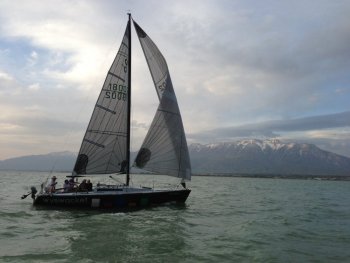 Wyewacket turning downwind for home port. We easily saw 8-10 knots of boat speed throughout the evening. Visit our
Facebook Page
for some great photos from Ben & Sharlee!
Join us for our next
"Intro to Racing"
event. Call 801.636.5204 to reserve your spot.
SUMMER SAILSTICE
Let's celebrate sailing, with other sailors all over the world, on June 22, the longest day of the year.
Join
Bonneville's "event"
by sailing to Pelican Bay Friday night and back to our home ports on Saturday.
NORTHERN CALIFORNIA BOAST FESTIVAL

Free Admission


EYE CANDY, SAILING IN AUSTRIA



Lake Traunsee, Austria

Christope Launay
So how's our water level holding up so far?
MAST CRANE POSSIBILITIES???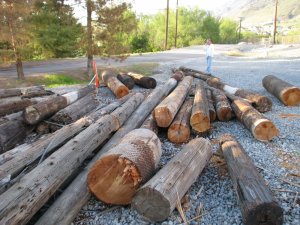 The search goes on . . .

We've had the green light from Ranger Jason to install a mast crane down at the Provo Marina. We thought we found a surplus pile of telephone poles that would do the trick. The longest measures just under 30 feet. With the boat on the trailer, that won't be tall enough. The search goes on. Anyone that has knowledge of 40 foot long, large poles, please contact us and we can get a mast crane going.



LOCAL SAIL REPAIR

Blown out spinnaker? Torn batten pocket? Need new canvas covers made to order?
Call Katie 801-623-6504


Carnage from our near broach, during last year's Spinnaker Clinic. The wind was so strong, it blew the chute over the top of the mast, causing a rip from head to foot.


Bonneville School of Sailing
www.bonnevillesailing.com
801.636.5204