Spring Has Sprung - Lets Go Sailing!
Utah Lake is now completely ice free!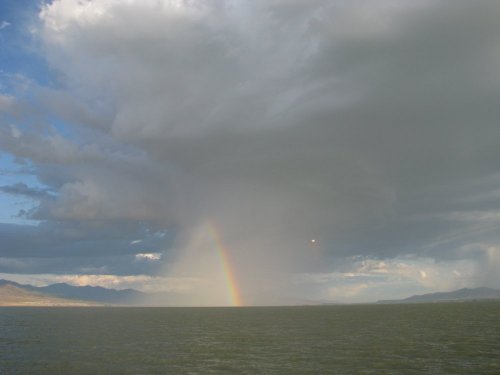 During our off-season, we have been working on a
new look
for our web page. We hope you like it. Please let us know what information you would like to see on our "new" site.

Utah Lake water level is currently down 1.07 feet from compromise. You can track lake water levels by going to our
Weather Page
and clicking on
Utah Lake Water Levels
, in the left hand column.

Reed Price of the Utah Lake Commission, wants to hear from you. What
improvements
would you like to see happen to Utah Lake? Scroll down three thumbnails to respond.


Americas Cup Video
. Hard to comprehend such power in a sailboat. The U.S. team practising on the Bay.

Our most popular Winter Sailing Seminar this year was "Sailing on Distant Oceans, The British Virgin Islands". This has also been true from past years. Responding to requests and noticing the obvious interest, we just had a business lunch with Mike Harmer, Skipper of Unsinkable II, to put together a BVI flotilla offer for next April. Stay tuned for upcoming information.

During our lunch with Mike, he shared a pretty cool and sophisticated
sailing simulator app
. Have a look and see what you think.

Star boat restoration began last Thursday. Come out and join us to learn lots
of boat restoration techniques
on these historic, olympic racing boats and help us get them ready to launch this spring!
Sign up now for our
Olson 30 "Showcase"
. Learn lots, have a great time and get a nice sun tan all at the same time. In fact, you can't get a better tan for $30, sail boat ride included!

Our
OPM Class
is rapidly approaching, April 19, 26 & May 3. This is a great class to learn blue water preparations from a seasoned ocean sailor, Doug Hendricks.

The second start boats (slower boats start first, then second start boats) appear to be catching first start boats for the Newport to Cabo Race. Keith Magnussen (from Ullman Sails) on "Timeshaver" is listed as retired, and by the looks of his tracking line, made landfall in Ensenada, and is now heading home. Sailing Anarchy is guessing a MOB may have occured on Wizard. Bob Steel on Condor is doing well in 11th place on the leader board. Pyewacket has moved to 2nd place.



Calm Seas Never Made A Skillful Sailor
unknown author

Bonneville School of Sailing
www.bonnevillesailing.com
801.636.5204