Ever Want to Sail on the Ocean? Last Seminar
Concluding Winter Sailing Seminar

this Thursday, March 14, 2013
Utah Lake State Park
7-8:30 PM


Roger Bliss will introduce us to the recent commissioning of his two new boats. The
Lagoon 560
and the
Columbia 32
. Just back from the Carribean, Roger will share some of his adventures, including a test drive on a sister ship 560, and his collaboration with the factory, in light of the recent tragic demise of a Columbia 32
Uncontrollable Urge
during the"Islands Race".
Lagoon 560 Interior Shot
Columbia 32
There will be some serious door prizes for our last seminar.

We hope you are one of the lucky winners, taking home a:
New England Ropes, Polo shirt


Everybody gets a

Latitude 38 magazine



Snickerdoodles and Chocolate Chip Cookies too

Thank you to all our great sponsors and supporters for this year's Winter Sailing Seminars:

West Marine, BuoyWeather (Bob Steel), Blue Plate Diner, La Casita Restaurant, Get Wet Sailing, Bintz Restaurant Supply, Milwaulkee Rigging, Nautic Ed, Latitude 38 Sailing Magazine, Utah Lake State Park Rangers, Get Wet Sailing (Terry Judd), UVU Campus Recreation (Clay Chivers) and all you Salty Dawgs who have filled the chairs.


Have you ever wanted to sail on the ocean?
Preparation is the key to a safe and successful experience. Would you know what to do in these situations?

If the ship's barometer reads 1016 mbar, what type of weather are you probably experiencing?

Name five items of safety equipment that a sea-going sailboat should have that a lake-going sailboat probably would not have. (Or maybe ten)
Bonneville's instructor, Doug Hendricks, will answer these questions and introduce you to some very valuable information that you would need to know for an ocean passage such as:

Preparing the boat for an offshore voyage
Provisioning for long ocean passages
Route planning and weather routing

Equipment aboard an offshore passage making vessel

Safety at sea

Watch scheduling and what happens while off watch

Meteorology at sea, including SSB radio WeatherFax reception and interpretation

Heavy weather sailing

Handling emergencies offshore
Fending off space aliens (A possibly useful skill in the Bermuda Triangle)
Offshore Passage Making Class

April 19, 26 & May 3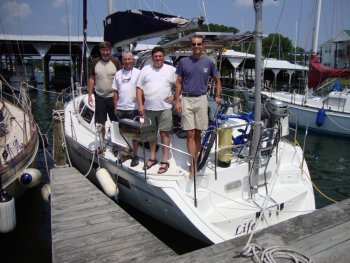 There are speculative reports that the Columbia 32 that was demolished during the Islands Race off San Clemente, may have experienced rudder failure. Certainly rudder failure is not new to ocean travelers, but if you are interested in sailing the Spanish Main, and want to know how to prepare for losing a rudder, join Doug Hendricks for his Ocean Passage Making class, coming April 19, 26 & May 3. Don't forget, Doug's Celestial Navigation and OPM Class are streamed live through the web, so you can learn right at home on your computer.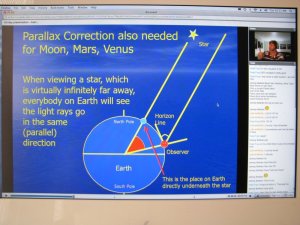 Remote Broadcast
An OPM graduate's testimonial:
"I wanted to let you know that because of the great sailing classes that Kym
and I have had through Bonneville Sailing, we are now confident enough to
purchase our own sailboat. We will pick it up in France at the end of the
month, doing an Atlantic crossing, and then improving our skills in the
Caribbean. Thanks for all you have taught us."
Best wishes with the school this coming year,

Martin and Kym
7 Days Until Spring!

Sign at a local greenhouse:
I can't wait for Spring,
I think I'm going to wet my plants!


For those of you still searching for last weeks question of the week
What is Ambergris?

Click here.
Bonneville School of Sailing
www.bonnevillesailing.com
801.636.5204