Skip Navigation
Website Accessibility
COASTAL CRUISING/NAVIGATION LIVE-ABOARD COURSE

Sailing the outside of Catalina Island

JANUARY 17 - 20, 2018

This course is designed to give you experience and prepare you for coastal cruising.
Whether you plan to cruise the BVI's or San Diego, the Florida Keys or the San Juan's, Bonneville's Coastal Cruising/Navigation Live-Aboard Course was designed for the sailor
who is looking to break into the big wide world of charter boat adventures.


Course topics covered will be:
Preparation for Cruising
Boat Systems
Instruments Check
Navigation
MOB
Mooring & Anchoring
Safety & Weather
Division of Crew Duties
Recommended Texts: US Sailing Basic Cruising & US Sailing Coastal Navigation

Bonneville Navigation Log Book will be included.
Bonneville Certification will be awarded to successful participants.
This is a live aboard trip, and all meals will be prepared by the crew and served on board.
Flights arrive in Los Angeles early Wednesday morning and
return to Salt Lake City on Saturday.

We will be sailing on a spacious
monohull.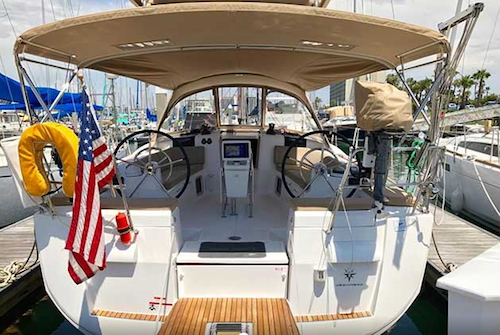 Using
traditional full size paper charts, NOAA Booklet Charts, GPS, iPads, and iPhones,
we will get familiar with all the fun navigation aids that can help you
develop your own navigation style while exploring the coves,
beaches and caves on the outside of

Catalina Island

.



We will also learn safe and controlled MOB procedures, VHF radio communications to Harbormasters, anchoring and picking up a mooring ball, shortening sails in strong winds, dinghy operation, knot tying, g
alley operations . . . and much more.

Picture yourself at the helm.
COSTS:
High Season
(April - October)
$1045.00 per person


Low Season
(November - March)
$895.00 per person
Space is limited to 6 crew.
Price includes: charter boat rates, fuel and mooring fees, meals,
on-board sleeping accommodations (including linens).
Contact Louise at 801.636.5204 with questions or to reserve your spot.
"For years I have wondered how to experience sailing on the ocean. It was great to find this adventure cruise that originated locally. It was very affordable and was with great friendly people. My dream was fulfilled!" Jay


"Well worth it, well organized, congenial attitude, lots of fun!" Joe


"Bonneville Sailing Adventure Cruise was a fantastic course. It provided me the opportunity to practice and ask questions. Our skipper was skilled, informative and patient - I never felt like my questions were stupid or too simple. I feel like I can go back to BVI and handle a big boat with more confidence and skill. The meals were perfect and my husband and I enjoyed our meals on Catalina Island also. I would do this trip again just to keep my sailing knowledge fresh. Thanks to our whole team. It was a memorable trip. The pods of dolphins were also an added bonus!" Stacy