Skip Navigation
Website Accessibility
CATALINA ISLAND VALENTINE'S ADVENTURE CRUISE
February 14 - 16, 2018
We will be sailing on a spacious, new Leopard 40 catamaran for a three-day adventure cruise to Catalina Island, leaving Long Beach.
Flights arrive in Long Beach early Wednesday morning, returning to Salt Lake City early Saturday morning.
Breakfast and lunch will be provided on board, while the restaurants of Catalina and Long Beach each offer excellent dining opportunities when going ashore. Refreshing hot showers in the master head feel great after a long day under sail.
From Long Beach we will sail to Two Harbors and enjoy an evening meal at Harbor Reef Restaurant. The Banning House Lodge provides a cozy, romantic atmosphere with a great view for those who want to stay on shore. (Lodging prices not included in trip fees).


Early morning sunrise in Two Harbors.
Walking from Two Harbors to Catalina Harbor.
A quick half mile stroll through palm trees and Eucalyptu
Price includes plenty of food on board, on-board sleeping accommodations, fuel & mooring fees & captain.
COST:

Private Stateroom for two, (linens, pillows & towels included) $1400.00

Bring your cameras. We saw more sardines, pelicans, seals and dolphins than you can imagine. A few brave crew members actually went snorkeling and saw Skates, Jellies and awesome kelp forests.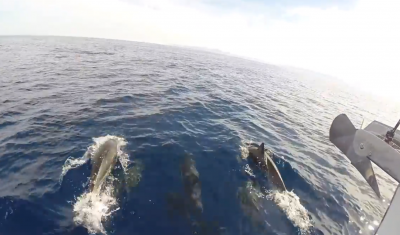 Call Louise at 801.636.5204 to reserve your spot.