Skip Navigation
Website Accessibility



CATALINA ISLAND ON A BIG CAT




TBA
We will be sailing in a spacious Lagoon 42 catamaran for a three-day adventure cruise to

Catalina Island

.
Flights leave Salt Lake early Mon
day morning flying into Los Angeles (LAX). Our plan is to be boarded and
ready to go by 11:00 AM.


This is a great opportunity to sail, as well as learn the systems of a Big Catamaran, for your future chartering adventures.**
Once we arrive at Catalina, you'll have free time to explore the island, pull on a mask for some incredible snorkeling, window shop in

Avalon

or maybe even "hangout" on the new 3/4 mile long
zip line
.
Of course we could always go for a sail too.
Breakfast and lunch will be provided on board, while the restaurants of Catalina and Long Beach each offer excellent dining opportunities when going ashore. Refreshing hot showers in the master head feel great after a long day under sail.
From Avalon, we will sail to Two Harbors and enjoy an evening meal at Harbor Reef Restaurant. The Banning House Lodge provides a cozy, romantic atmosphere, with a great view for those who want to stay on shore. (Lodging prices not included in trip fees).


Walking from Two Harbors to Catalina Harbor.
A quick half mile stroll through palm trees and Eucalyptus.

At approximately $285 per day, per person, you will not find a better adventure cruise, combined with hands on experience anywhere on the planet. Price includes on-board sleeping accommodations, fuel, mooring fees, insurance, and big cat check ride.
COSTS:
Private Stateroom (includes 2 people) (linens, pillows & towels included) $1695.00


Deck Hand

(bring your own sleeping bag)

$825.00
Provisioning $40.00 per person



Call Louise at 801.636.5204 to reserve your spot.



**If you are interested in passing off some of your SLC requirements or obtaining the Catamaran Charter Certification call Louise at 801-636-5204.

Spacious private stateroom
Enjoying the dolphins on a past trip to Catalina Island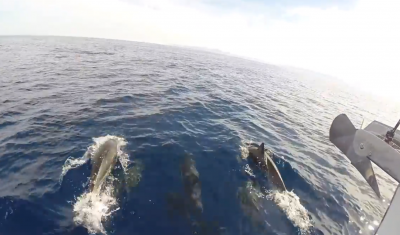 "Long Beach to Catalina was an extremely fun adventure! Great trip for you if you are a first time sailor or experienced seaman. Todd and Roger were both very knowledgable and a great resource for sailing instruction and tips. Loved the trip and would do it again!!" Dan


"For years I have wondered how to experience sailing on the ocean. It was great to find this adventure cruise that originated locally, was very affordable and with great friendly people. My dream was fulfilled!" Jay